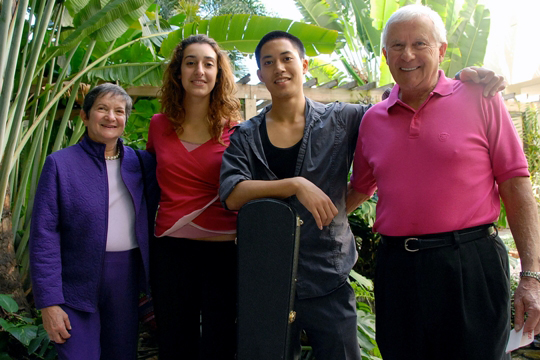 Established through the generosity of Lewis and Esta Ress of North Miami in 2002, this unique program brings student musicians from the Frost School of Music into local hospitals. The project's main goal is to introduce live music performances as a positive influence in the hospital setting. While these performances do not constitute music therapy, they do offer multiple benefits, such as stress relief, a distraction from boredom, and anxiety reduction.
The student musicians who give these performances also gain valuable experience in community outreach. All students within the Frost School are welcome to participate, including music therapy students. Through the Ress Project, student musicians learn how to provide interactive performances and to utilize their musical talents in novel ways.
Dr. Shannon de l'Etoile, Professor of Music Therapy and Associate Dean of Graduate Studies, directs the Ress Family Hospital Performance Project. A graduate assistant who works closely with Dr. de l'Etoile schedules weekly performances in local health care facilities, such as Baptist Children's Hospital, Nicklaus Children's Hospital, Sylvester Comprehensive Cancer Center, Holtz Children's Hospital, Ryder Trauma Center, South Miami Hospital, and Season's Hospice, to name a few.
Performances are consistently well-received by patients, family members, and hospital staff. Pediatric patients frequently sing, clap, and dance along to the music, and enjoy guessing the names of the pieces. Adult patients spontaneously comment that prior to such performances, they felt "down and depressed," but after listening to the music, their "spirits had lifted." The music clearly provides an effective distraction from the many concerns and physical discomfort that hospital patients face on a daily basis.
The following testimonial illustrates the impact of a Ress Performance at South Miami Hospital:
"I just wanted to give you a quick update on the recent cello and violin duet at South Miami Hospital. I always expect that the performances from U of M music students will be wonderful, but I have to tell you that this one was spectacular. This was definitely due to not only the musical abilities of Victoria and Andres but mostly to their dynamic and engaging personalities. They demonstrate the unique capabilities to reach out and touch their audience, but also to interact with them personally.
The staff was very pleased to be able to ask questions of Victoria and Andres, and really stopped what they were doing to listen (which, by the way, is now happening wherever we go). In the Oncology area, we had staff dancing the waltz and ballet behind the nursing station to the music, and then a very ill patient came dancing down the hallway with his family. The family thanked us for providing their family member with a bit of joy during his illness.
We then moved to the Respiratory floor where not only did the staff dance to the music, they also sang. We had 1 physician and 2 staff creating a trio to sing Besame Mucho. What a delight to watch. The physician even called his partner to tell him that he would no longer be going to Baptist Hospital because they didn't have music, and put his phone to the music for his partner to hear!
The appreciation from the staff and patients was truly amazing for Andres and Victoria. Victoria was also responsive to playing Haitian music, which a staff member chose to sing and dance to in the hallway. Thank you so much for providing South Miami Hospital with such wonderful and uplifting experiences for our patients, staff and visitors."
For more information, please contact Dr. Shannon de l'Etoile at sdel@miami.edu